The 2021 Subaru Love Promise Customer and Community Commitment Award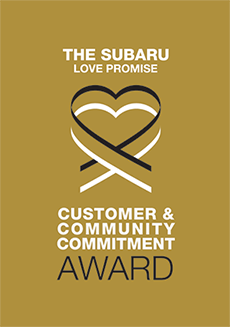 We've been nationally recognized for our dedication to our customers, our community, and the Subaru Love Promise.
We're honored to receive the 2021 Subaru Love Promise Customer and Community Commitment Award. This award nationally recognizes elite Subaru retailers who provide an exceptional customer experience at every interaction with Subaru. These retailers have also demonstrated an outstanding commitment to supporting passions and causes in their local communities in important areas such as the environment, community, health, education, and pets.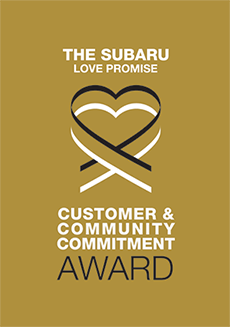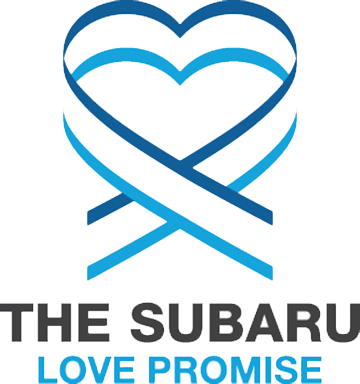 What is the Subaru Love Promise?
Subaru and our retailers believe in making the world a better place and the Subaru Love Promise is our vision of respecting all people. This is our commitment to show love and respect to our customers and to work to make a positive impact in the world.
How is Modern Subaru of Boone dedicated locally to the Love Promise?
Our Love Promise can be seen in various partnerships with local charities and non-profits. We're grateful for the opportunity, not only to be a part of our community, but to serve it as well.
Appalachian State University
Love Promise Stories from Modern Subaru of Boone
Subaru and Modern Subaru of Boone believe in making a positive impact on the communities in which we live and work. We uphold that belief through our Love Promise Community Commitment. Every month, we select inspiring stories from customers and partners from around our area who strive to support our collective commitment and feature them here
Make a Dog's Day - Kristan C
Thank you to the Subaru Loves Pets Make a Dog's Day support! In October the Watauga Humane Society found more than 100 animals forever homes! This included several animals that had been seized by animal control but are now in loving homes. It also included several older animals, like Ladybug! This 9-year old stray is cute as a bug and very sweet and in October, she found a forever home. The financial support we receive from Subaru helps WHS provide love and care to so many animals all year long. Thank you.
---
Subaru Loves Pets - Kristan C
When Watauga Humane Society applied for an ASPCA Subaru Loves Pets grant for a virtual adoption event, we simply hoped to hang a poster at Modern Subaru and maybe have them repost our social media posts. What actually happened was we received the grant and the folks at Modern Subaru pulled out all the stops to make this a successful event. They made a video, designed ads / posters, and initiated the social media "blitz" for the event! Their hands-on approach to the event saved WHS staff and volunteers hours of work. This experience has made it clear that the Subaru commitment to pets goes well beyond simply providing funds. The folks we have worked with (Jody, Joshua, Andy) are truly committed to helping their communities - especially the animals in our community!
---
The Subaru's I have owned!! - Lloyd G
I am not new to the Subaru ownership legacy. My first Subaru I bought new was an 83 Loyale wagon with a unique digital dash. .My next ownership was a 2014 Subaru Crosstrek xv Hybrid that .I had for four years. My next and present Subaru is now a 2021 Crosstrek Sport.. This one is a monumental departure from the previous hybrid I owned both in power and in technology. We love it .for its versatility , power , and reliability as proven to us by our previous ones. The vehicle is important but the dealership in which it is purchased, in my opinion, is also critical. Modern in Boone has won my respect and trust on more than one occasion in sales and service!
---
Make a Dog's Day - Andy A
Subaru is proud to establish the first-ever National Make A Dog's Day October 22nd. As part of Subaru Loves Pets month, we're inviting all dog lovers to do something extra special for their furry best friends. Plus, Subaru will be focusing our efforts on helping the hardest-to-adopt shelter Dogs –those with special needs-find homes. Get ready to fall in love withThe Underdogs. #MakeADogsDay Meet Gabi! Gabi has been at the Humane Society of NWGA (Northwest Georgia) for seven years. If you asked the volunteers to pick their favorite animal at the shelter, Gabi would win hands down. She does not do well with dogs or cats so must be the only animal in an adult only family. She loves people and will bond very quickly to you. Gabi would make someone a great companion. She is waiting patiently for her forever home. If you have room in your heart and your home for this sweet girl then please fill out an adoption application, highlight and right click this link: https://hsnwga.org/adoption/application-for-adoption/?fbclid=IwAR2Ie18p6U3ryKi-niIuIZFTd-waD98xrySl7IJmiRBXE239WP7dpODubiU #MakeADogsDay #SubaruLovesPets #TheUnderdogs
---
Hardin Park Elementary - Subaru Loves Learning - Candice T
Modern Subaru of Boone graciously donated numerous books related to STEM (Science, Technology, Engineering, and Math) for our K-8 teachers and Media Center. These books have provided information for both our students and teachers to discover hands-on learning of topics related to our curriculum that engage students in their learning. We thank Modern of Boone for selecting Hardin Park being committed to education in our community!
---
Subaru and NWF Love the Earth - Ryan R
It's summer break at school but the garden is going strong!
---
A Survivor Makes a Lasting Impact - Cathy B
Modern Subaru of Boone, NC stands behind its employees and its community. One of its top selling sales people, Adriane Lewis, is a 6 year lymphoma survivor, and she believes that her diagnosis and subsequent life changing experience ultimately put her on the path to her job with Modern. Adriane, joined by Modern's Bryan Johnson, accompanied The Leukemia & Lymphoma Society staff on a delivery of blankets and care cards filled out by Subaru customers with hopeful and inspiring words to patients at the Seby B. Jones Cancer Center, just minutes from the retailer. There the Executive Director, having made prior arrangements for them to hand deliver the beautiful blankets to patients during their chemotherapy time, happily welcomed the group laden with gifts. Actually hand delivering the blanket to a patient is the best possible scenario (though unfortunately not all hospitals can permit it due to privacy laws). It gave Adriane and Bryan the opportunity to impart encouraging and hopeful words which were very meaningful as Adriane had been in their shoes not that long ago. She would say as she gifted a blanket, "I know exactly what you're going through (and show her port scar), and I'm here to tell you, you can do this."
---
Subaru Saleswoman More Than Survives. She Thrives. - Cathy B
Adriane Lewis may be the top Sales Consultant for Modern Subaru in Boone, NC for the past three years, but this might not be the accomplishment she is most proud of. The day before her 29th birthday, Adriane was diagnosed with Stage IV Hodgkin's Lymphoma and began a grueling six months of chemo. No one expects cancer in his or her life, and Adriane found a strength she did not know she possessed as she slipped in and out of consciousness, fighting the harsh side effects of the medication while knowing fully well that this very aggressive therapy was her only hope. No surprise to anyone that knows her, Adriane survived, and today is five years cancer-free. During her darkest hours, she may have lost a boyfriend, a home and a job, but nothing was going to stop Adriane from recouping her life. While working at a local Starbucks, Adriane met the GM of Modern Subaru who could see her drive and potential and ultimately offered her a job at the dealership. She loves this job as well as her co-workers and says, "My managers are the best of men who believe in me and respect me. I feel very blessed." LLS was thrilled that Adriane offered to be a part of the Subaru Love Promise blanket delivery campaign to the Seby B. Jones Cancer Center this summer where she proudly introduced herself as a survivor to cancer patients, telling them that they needed to continue their fight. She was inspiring, and a picture perfect example of what is possible within all of us. Thank you, Adriane.
---
Western Youth Network felt- "The Love" - Wesley B
The Western Youth Network would like to extend our deepest gratitude to Subaru for selecting us to be a part of their annual Share the Love Event. These funds will be used to help us build youth of character and confidence, so that every young person in the High Country reaches their full potential. WYN recognizes a simple truth, growing up is hard, especially during those pivotal years from 5th through 10th grade. WYN invests in the lives of children and youth in order to build a better future and a stronger community for the High Country. We truly are raising a community and we do this by providing unique and quality programming that offers individualized support to over 200 children and youth each year in our Mentoring and After School Initiatives alone. Subaru has helped ensure that this life changing work continues!
---
Art in the Park - Bryan J
Modern Subaru sponsored the Art in the Park festival on June 13 in nearby Blowing Rock. A crowd of thousands attended the popular arts festival and loved the various artists' works. As part of its partnership with the fair, Modern Subaru gave away $100 of free art from the featured clay artist, Courtney Tomchik to a lucky local winner.
---