Recommended Maintenance
We will maintain your Subaru in a manner that will keep it trouble-free and a pleasure to drive. Regular vehicle service will help prolong the life of your Subaru. Listed below is the factory-recommended maintenance schedule. Refer to your Subaru Warranty  Maintenance Handbook for details.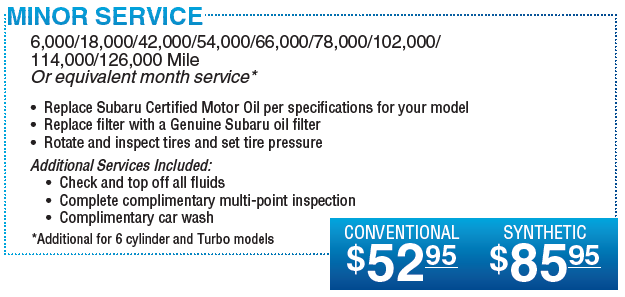 Minor Service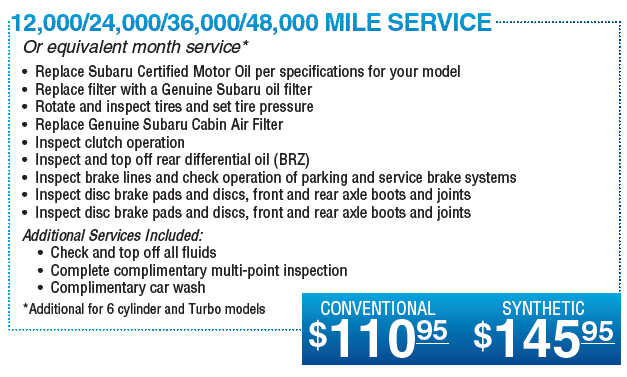 12,000/24,000/36,000/48,000 Mile Service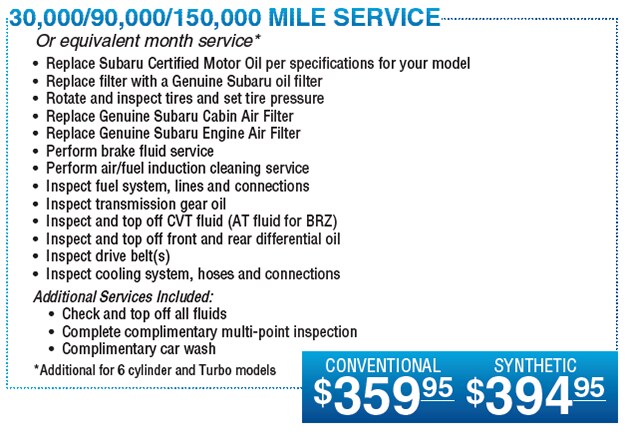 30,000/90,000/150,000 Mile Service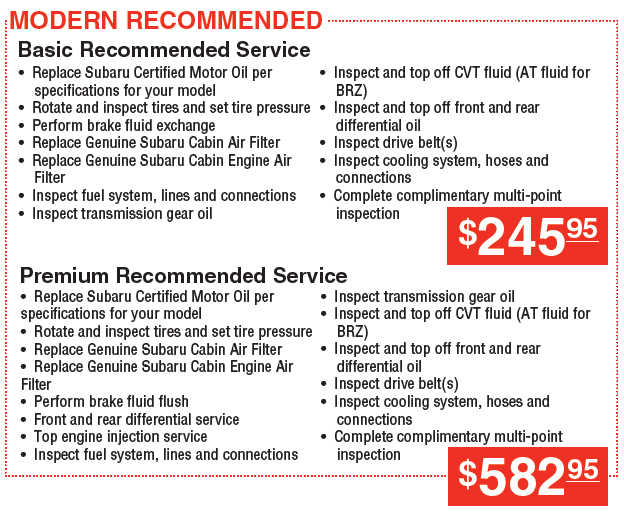 Modern Recommended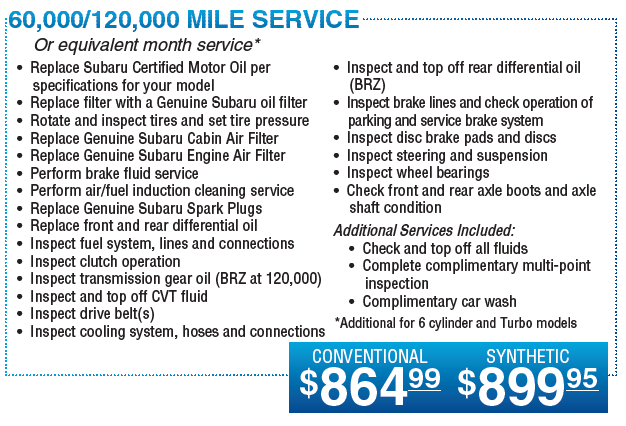 60,000/120,000 Mile Service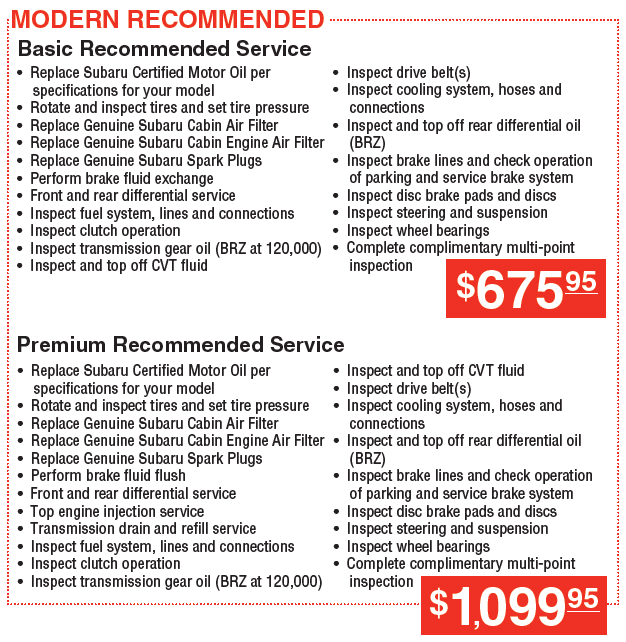 Modern Recommended
Here are some of the most popular value-added services that we perform:
Motor Oil Additive (MOA)
$26.95
Fuel Additive
$38.95
Engine Air Filter
$34.95
Battery Cleaning Service
$46.95
4-Wheel Balance
$59.95
Engine Performance Restoration
$64.95
Cabin Air Filter
$43.95
Front and Rear Differential Service
$155.95
Road Force Balance
$99.95
Brake Fluid Service
$139.59
Power Steering Service
$149.95
Air/Fuel Induction Cleaning
$164.95
Automatic Transmission Fluid Service
Starting at $249.95
Replace Brake Pads and Resurface Rotors
Starting at 280.95
Spark Plugs
$250.00
Timing Belt Service (Timing Belt Only)
Starting at $449.95
Valve Adjustment
Starting at 649.95
*Additional for 6 cynlinder and Turbo models
---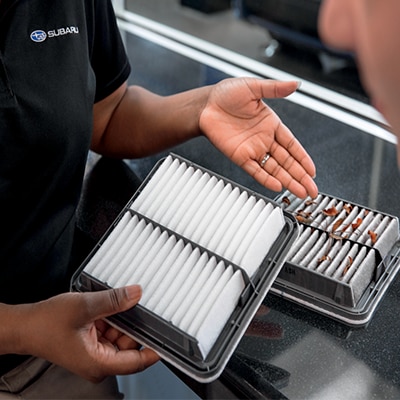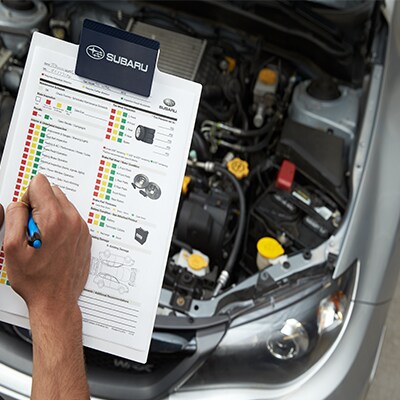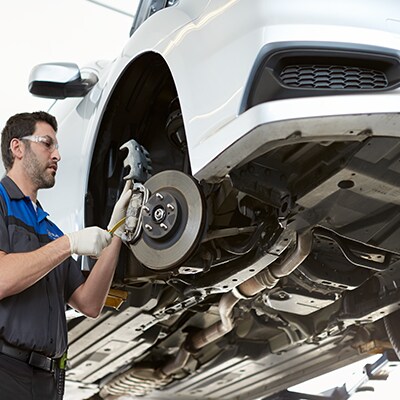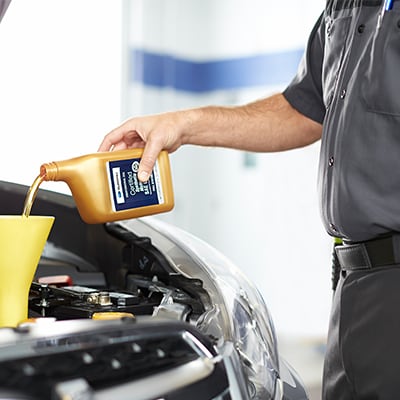 FREQUENCY REQUIREMENTS FOR MAINTENANCE SERVICE
The frequency of factory recommended maintenance as set forth in your Subaru Warranty and Maintenance Handbook is minimal. It may be necessary to perform some services,
especially the oil and filter change service, more frequently.
*1,000 MILES = 1 MONTH
NOTE: This schedule is based on the manufacturer's recommendations found in the Subaru Warranty and Maintenance Handbook. Additional services may be recommended based on
local climate, road conditions, vehicle usage (repeated short distance driving, towing, etc.) and our years of experience with local driving conditions.
Not all services are applicable to every model/model year and in some cases prices may vary by model or equipment. Prices are subject to change without notice. Your service advisor will explain and confirm pricing details at
the time your Repair Order is written.
**Parts and labor for indicated service will be an additional cost to the published scheduled maintenance cost.
Hours
Monday

9:00am - 7:00pm

Tuesday

9:00am - 7:00pm

Wednesday

9:00am - 7:00pm

Thursday

9:00am - 7:00pm

Friday

9:00am - 7:00pm

Saturday

9:00am - 6:00pm

Sunday

Closed